Pan Card Correction and Update
PAN is a 10-digit unique identification number provided by the Income Tax Department of India. Permanent Account Number (PAN) is one of the vital documents for all taxpayers in India which must be issued by every eligible Indian citizen. So, you must also apply for Pan Card Correction and Update. Every Individual must apply for a PAN card once they reach their adult age i.e. 18 years old.
A PAN card is required to file income tax returns, and it is important that all information on the card is updated and corrected. The Government of India had made a recent announcement related to PAN card which states that your PAN card must be linked with your Aadhaar card.
Everyone having a PAN card is requested to make necessary changes in your PAN if any information and details is misprinted or needs an update. Read this article to know what are the steps to apply for a PAN Card Correction and Update Online via the NSDL portal.



Apply for Pan Card Correction and Update Online



You can easily update / edit your details on the PAN card by following the steps below:
Step 2: Under the Services section, Click on "PAN".


Step 3: Click "Apply" under the "Change / Modify PAN Data" section.
Step 4: From the 'Applications' drop-down menu, select 'Changes or Adjustments to existing PAN data / PAN card reprinting (No changes to existing PAN Data)'.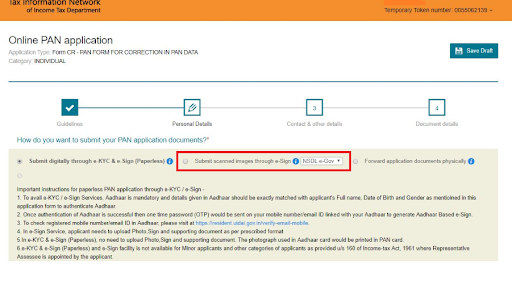 Step 5: From the 'Category' drop-down menu, select the appropriate category for the reviewer, for example, if PAN is registered in your name, select 'Individual' from the list.


Step 6: Now, enter your name, date of birth, email address, and mobile number.


Step 7 : Complete the Captcha and click on "Submit".


Step 8: Your request will be registered and the Token Number will be sent to the email ID provided by you. You can continue the process by clicking the button provided below it.
Step 9 : After you proceed, you will be redirected to the form - there are three ways to send
your text, click on "Send e-Sign scanned images to NSDL in gov".
Step 10: Fill in all the required information such as your father's name, mother's name (optional), your Aadhaar number and click on 'Next'.


Step 11: You will now be redirected to a new page where you can update your address.
Step
Step 12: Upload all required documents such as proof of address, proof of age, proof of identity and PAN.
Step 13 : You need to sign the declaration and click on "Submit".
Step 14 : You will be redirected to the payment page. Payment can be made through demand adjustment, net banking, and credit / bank card.


Step 15:For successful payment, an acceptance slip will be issued. The requester must take a copy of it and send it to the NSDL e-gov office with physical documentation. Also, paste the image into the space provided and sign it. Write 'PAN Change Application' above the envelope and acknowledgment number.

Step to Apply for Pan Card Correction Offline
To apply for an offline PAN Card, you need to follow the steps outlined below:
Step 1: Download Application for a new PAN form


Step 2: Fill in all the mandatory fields on the form carefully


Step 3: Attach supporting documents such as proof of identity, proof of address, passport size photographs, etc.


Step 4: When you are done, submit the form to the nearest NSDL collection center


Step 5: You will have to pay the cost of installing the new PAN Card which means R. 93 of the contact address of Indian citizens and Rs. 864 External contact address (Excise Tax)

Step 6: You will receive a 15-digit acknowledgment number to track the status of the PAN card program.
Download Form 
Fees and Charges for Correction or Update pan Existing Card
To fix PAN details, you need to pay the same amount. The amount is the same for new PAN applications and PAN renewal / upgrades. Cases -
Rs 110, if the contact address is within India
Rs 1,020, if the contact address is outside India

How to Change Name in Pan Card
There may be cases where incorrect words are written on the PAN card. There are cases where people do not know how to change the name on a PAN card after marriage. In such cases, you can update the words in it. To change the name on the PAN Card online, follow the steps outlined below:
For online applications, the application can be submitted via TIN-NSDL or UTIITSL.
In the case of offline applications, a link to download the PAN card form is provided here

The PAN card form must be completed correctly to provide all the details correctly

The photo must be attached and the form must be signed before submission

In the event of an offline application, the draft required on behalf of the NSDL must be submitted with the application form to the registered NSDL address.

In the case of an online application, payment must be made online using debit / credit card or full banking

A 15-digit acknowledgment code is created which can be used to check the status of the PAN card

Upon successful submission, the updated PAN card is delivered to the applicant within 45 days of application.

PAN card does not have a cardholder address

The address is specified in the form to send a portable PAN card by post. You can get the address updated by completing the offline application form 49A offline

For forms completed online and authorized using Aadhaar OTP, the address cannot be changed. The address specified in the Aadhaar database is considered your default address

In case you want to change this address, you will first need to get the address updated on your Aadhaar card and then complete the PAN Card Form 49A again
Documents Required for Change in Pan Card Details
There are many documents required to update existing PAN information to be submitted to NSDL and application form. Forms and documents are then sent to the nearest PAN Card centers located throughout India. Let's look at documents that can serve as proof of identity, address, date of birth and existing PAN

For Individual and HUF


Read this above article provided in details on PAN card correction and update. It is an important document required most of the place as an identity proof or address.